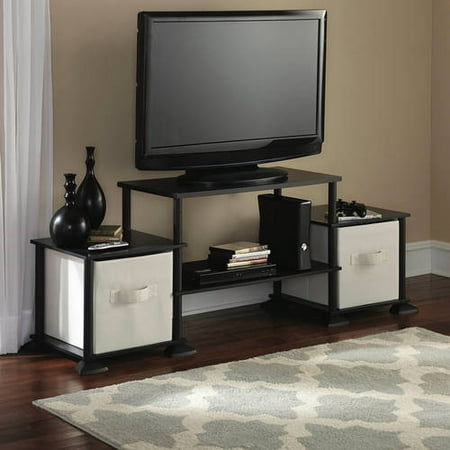 Create the perfect entertainment destination with the Mainstays No-Tool Assembly 3-Cube Entertainment Center for TVs up to 40". Featuring three open cube compartments, this cheerful design is available in multiple finishes to complement almost any decor. Easily assembled without tools, the Mainstays Cube Storage Home Entertainment Center is sturdily constructed with round support legs on angular bases and can support up to 80 pounds on the top panel with an included plastic stopper to help keep televisions up to 40" securely in place, as well as up to 22 pounds, on each lower panel for other entertainment accessories and other items. An open back design makes cord management easy. The two side cubes are ideal for displaying books, photography, and collectibles as well as keeping remotes handy and organized. The Mainstays No-Tool Assembly 3-Cube Entertainment Center is perfect for any family room, living room, den, entertainment room, guest room, home office, and more.
Vs up to 40" and no more than 80 lbs
Holds storage cubes (sold separately)No tools required for assembly
TV entertainment center includes shelf underneath for holding AV equipment, DVD players and game consoles
Available in a range of colors including: black oak, gray, navy, red, white, yellow
Televisions sold separately.
Customer Reviews
Love
Easy to put together and I have three kids so its inexpensive and sturdy. Looks nicely in my living room and I love my options for the shelves. I put a darker gray organizer to match my rug in them. Also like the end tables. My living room is almost complete.Heather
Love it
It's great for the price. It serves its purpose I'm able to fit my 55' TV on it the set up was easy as 1,2,3 I wish all the furniture was this easy lol But it's definitely worth the priceSam
Great Budget Buy
I bought this item for my bedroom because Im just starting out. It was easy to assembly, provided a lot of space for additional items such as a DVD Player and Surround Sound. Its the perfect height and accents the space very well.uvcf34

Very easy to assemble. Took less than 30 minutes. Minor chips in paint along the edges but it's barely noticeable. Perfect height for my daughter to sit at her table and watch cartoons. TV is 32".Lakeshia
worked but flimsy
It worked for what I wanted it for and was easy to put together, but a little flimsy. I originally got it for a 32 in TV but when the TV arrived, the sound didn't work, and when I went to exchange it at Walmart they only had four TVs available at the store I went to, and I had to get a 40 inch TV to replace it, which was as big as this stand could accommodate. So it worked out in the end.Jeanie
great, but I had broken pieces.
I took a star away because I ordered 2 of these, one for my bedroom and one for my living room and unfortunately there was a broken poles. one short and one long. both were the sides where you screw in another piece :( inside says not to return to walmart and it gives you a phone number. the number just tells you to email [email protected] so I'm hoping I can get the replacements soon so I can build the other. I ended up just using 2 of the poles from the 2nd package. also for some reason the bases don't tighten the same way which was annoying for my OCD. other than that it's great and looks great in my house!Jasmine
It's good for what it costs
Good TV stand for the price, but when I finished putting it together, the legs came out to not even match the section where it's supposed to go on the bottom of the shelves it supports, so it looks crooked and a little janky. My husband said he bought the exact same stand years ago and had the exact same problemArielle
Not worth it!
I bought this for my teenage son's bedroom. As I started to assemble it, I notice a significant amount of damage on one of the shelves. Then while tightening a leg to one of the other shelves, the part where the legs screws in broke off. The only reason I did not return it is because it's a hassle returning bulky items and I decided to make two pieces out of the one large piece. So he now has a smaller tv stand and a nightstand. Two of the shelves were not needed so I just threw them out. I do not recommend getting something so cheap.Tonika
disappointed
came broken!
the top table was broken on the corner and I came to know about it after I assembled most of it. very disappointed with online order of furniture from walmart. And returning it was more hassle. It came with pamphlet saying don't return this item to store.Rashmi
Less than one star
Just received this and I'm missing 6 different pieces. I just moved into my new apartment and bought this for my daughters bedroom. Extremely disappointed. And by the reviews Walmart needs to pull this brand if it's such bad quality. I understand it's cheap but we should at least get all the parts to set the thing up !!?? Wish I read all the reviews before buyingEllie
You may also be interested in