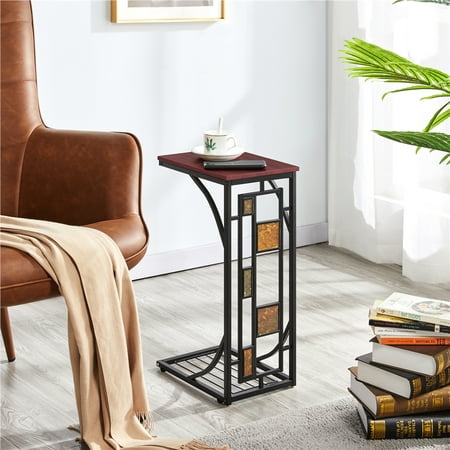 The stylish geometric patterened Easyfashion Traditional C Shaped End Table can add a sense of fashion and art to your living room, bedroom and office. The C shaped design allows its base to slide under your low-clearance sofa/bed and provide you a more convenient access to snacks, drinks and books. The lower iron mesh shelf provides extra storage space for more books and magazines. This table is constructed with high quality metal frame and PVC coated MDF board. Easy assembly is required.
Material: Iron Frame & PVC Coated MDF Board & BPA-Free Plastic Dimension: 8.3 x 12 x 20.9\'\' (Wx
Dx
H) G.W.: 4.2 lb Max Weight Capacity: 25 lb Color: Black/Brown
Package includes (1) C Table Assembly required/hardware included and instruction included.
Customer Reviews
awesome end tables for space saving with style !!
awesome tables ...just the right size and fits my purpose just right....I live in a smaller type house and I need to save space as much as I can....super easy to put together and super stylish looking...I'm kind of blown away with the price being low..but yet they have a high end look....again...I just love them...
I got 2 ....for the ends of my leather sectional sofa I got....and again...they serve my purpose just right....
I am happy with the 2 that I ordered....
a must get item...and again...they are super durable....don't tip over...and very sleek!!Joseph
Not holding it anymore
This is a perfect little table to have between my bed and my recliner. It is a perfect little table to have between my bed and my recliner. Its perfect for holding a coffee cup ,remote control.MommyLovesHerBabies
Definitely exceeds the feasible price!
I didnt know what to expect for the feasible price but these end/food tables are an excellent addition! Material is sturdyRitaRita
Good for the price excellent
Very beautiful for the price
Disappointed
Much smaller than I anticipated. It isn't good for a side table, but it at least fits to the top of the couch cushion.
Also, very disappointed that the squares are not decorative glass (as I thought). Just colored paper.Rachel
Damaged
Came damaged. No complaints about the actual item, just the fact that the one portion has a jagged indent and the other portion had tape from the bag stuck to it which ruined it.Katlynn
Glad the price was cheap.
The table is cute but a lot smaller than I thought. It is about 1/2 inch over the couch cushion.Patricia
Poor quality control
This product was shipped damaged. The paint on the bottom rack was not painted right and is bubbling and pealing. Poor quality controlDiane

Make sure you read before you purchase! The tray only comes up to the couch cushion. I don't even know why this showed up in my search results. Also, there's no directions to speak of, you get a picture of the parts and you have to figure it out. Disappointed at myself for trusting the search results.Sarah
Cute but not practical
It a cute table, however, I was expecting it to be taller. I came with one of the decoration plate and the top scratch. I didnt know it made out of paper/cardboard. I gave it to my 16 year old.GeeGee
You may also be interested in